WHAT ARE MONOPOINTS?
Monocure 3D's Loyalty and Reward Program. Collect Monopoints as you purchase products from Monocure3d.com.au. Redeem your Monopoints at checkout and get discounts. 1000 Monopoints = $10AUD
HOW DO I JOIN?
Create an account on our website and become a Bronze Member upon registration. See below on how to gain extra Monopoints!
HOW DO I BECOME A SILVER, GOLD OR PLATINUM MEMBER?
Reach the levels indicated below within a 6 months time period and become a Silver, Gold or Platinum Member! Your Status will be evaluated every 6 months (1st of March & 1st of September). You may be downgraded or upgraded according to the target you have reached.  Either way, your Monopoints are safe!
For example, if you spend between 500 – 899AUD$ on Monocure3d's webstore from 1st September to 30th April, you will become a Silver Member on the 1st of March.
*Semesters from 1st September to 1st March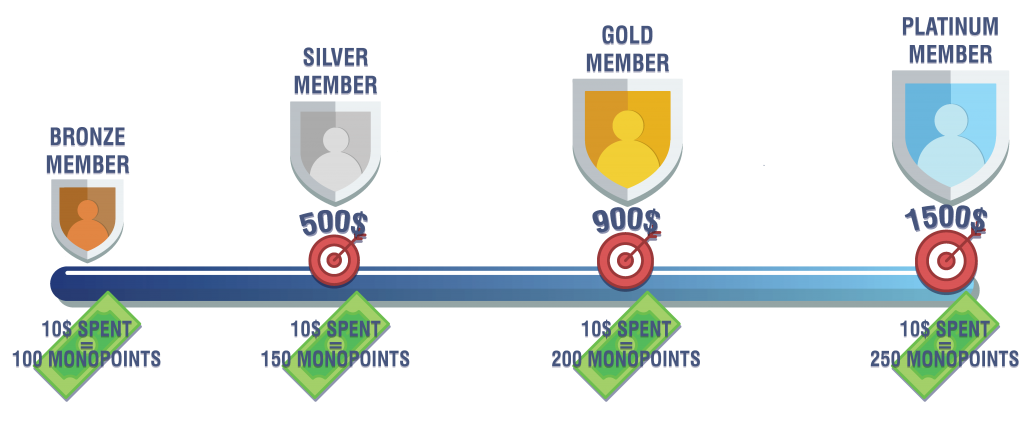 WHEN CAN I REDEEM MY MONOPOINTS?
Your Monopoints have no expiration date or time restriction. You may redeem them whenever you wish!
HOW CAN I EARN EXTRA MONOPOINTS?
Upon registration, for your birthday or for each review that you post on Monocure3d.com.au!

CAN I BUY MONOPOINTS AS A GIFT?
Yes! Send us a message and we will add Monopoints as a gift for your loved ones.
*Currency is in Australian dollar ($AUD)